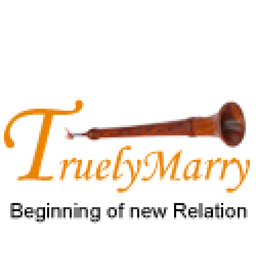 | | |
| --- | --- |
| Type | Public |
| Industry | Online/ Offline |
| Founded | 2010 |
| Founder | Mr. Rajeev |
| Based in | Kanpur, Bangalore |
| Services | Matrimonial |
| Website | www.truelymarry.com |
Indian's best matrimonial site
Indian marriages are all about traditions. The function starts around 4 days before the decided date and goes on 2-3 days after the couple gets married. While everyone around is busy selecting their outfits and what kind of performance they will give during different functions have you ever thought about what kind of hardships the parents have to face and especially those of the bride?
Some facts about Indian Marriages:
According to Indian mythology, matches are made in heaven. It might be the truth but finding those already decided partners here on the earth is like finding sugar crystals in a solution. In the olden days, this work was done by relatives, family friends, or some pandits who knew the whole family tree. These pandits were the astrologer who used to have the preparation of his business in quite a professional way. But what next?
The roles of these #pandits were limited to just telling the right match while all the other things were taken care of by the families. Travelling to the groom's house, setting a meeting, and then marriage used to happen. Between all these events panditji use to take the shagun for just finding the right match and introducing the bride's family to the groom's family. That was the time when Truelymarry got a business proposal.
Our journey:
Founded in the year 2010, Truelymarry's sole aim was to cut off the hardships parents had to face and introduce them to a digital matrimonial platform. With a sacred business idea, we started our offline journey first. When we got established as one of the best matrimonial company in offline services, we extended our service to online platforms and from then we did not look back for once.
We have given our elite matrimonial services to numerous people till now. Treulymarry.com is one of the best matrimonial companies in India. Our matrimonial website is the fastest growing portal offering matrimony alliances and thus, creating successful marriages.
Services for all:
We are the first to introduce offline membership plans to the people. Also, we extend our services to all the people belonging to different religions, castes, and regions. Whether you belong to Hindu, Muslim, Christian, Sikh, Jain, or any other community, we promise to find the perfect match for you.
Our services are free so that you can take maximum advantage but elite profiles can be unlocked with subscription models. These subscriptions are affordable and give you access to the most renowned profiles. Customers love personalized matrimony services offered by us. We have a user-friendly portal allows you to find the best-suited profiles while considering your preferences.
Our business model:
Truelymarry.com works on the C2C (customer to customer) business model. Our website offers a free list of prospects, and allows searching while also accepting other's interest expressions. Once you find the match and decide to move ahead, you need to pay to get other details. We have our offline centers operational across different locations in the country.
We check everything:
While others are just making online businesses out of matrimony we are doing more for you. We understand the problems Indian youths face in finding their life partner. Thus, we have come up with the best online services in matrimony.
We make sure that you find authentic profiles on our website. Wondering what we do to ensure authenticity? We have certain points on which we check the profile before uploading it to our website. In simple words, Truelymarry offers 100% verified profiles. Let's find out how we achieve that.
1. Thorough profile analysis: Our website has an option to register for free but after someone registers on our website, they go through a thorough profile analysis. We do an in-depth analysis of every profile which is later on reviewed by our experts. If any discrepancies are found, such profiles are immediately deleted from our portal. Thus, making sure that only marriage material reaches you at the end.
2. Uploading a photograph is a must: Our portal does not allow any profile to be uploaded without a picture. Employing this checkpoint makes it easy for us as well as the searchers to take a closer look and sort the particular profile. Many fraudulent do not upload their picture and lure the families with wrong profiles. We at Truelymarry incorporate advanced technology to delete such profiles at this step itself.
3. Filters for your ease: We check that every profile registered on our website mentions their religion. This makes the process of sorting the profiles based on a religion filter. For instance, if you are looking for a Sikh bride, only the relevant profiles matching your preference will come out on the result page.
4. Offline customized services for you: We understand that you might not be a tech-savvy person and that is the reason we launched our offline services a decade ago. Whether you need to consult with our expert after getting a good match from our website or you are just wanting to get some options offline, you can reach out to us anytime. Our team will assist you in every possible way.
We are unstoppable:
Truelymarry started with a vision to help the girls and boys to find their perfect match without any hustle and we are proud to say that we are doing our job successfully. Also, we are grooming our business model with the changing technology and transforming our vision towards making more relevant matches.
Truelymarry.com has undergone many changes in these last two decades. Our team of experts is regularly in touch with the users collecting their feedback and employing all those changes on our website. Certain factors that kept us evolving from time to time are:
1. Started with an offline platform: We started our journey with an offline matrimonial platform where we use to do marriage matching for the local people. This made us analyze the general problems of the people more closely. With the offline services, we nurtured a way to find the authenticity of the profiles. We created a deep-rooted network that allowed us to provide uncompromised services on the online platform.
2. Moved with technological pace: We did not limit ourselves to just a few of the technologies but kept on adapting all the new technologies on way to offer a better customer experience on our website.
3. The feedback helped us a lot: We were nothing without our elite customers. When we started our online matrimonial business we only had the experience gained from our offline platform and our family. All thanks to our clients, and their valuable feedback that helped us a lot to reach the place where we are today.
4. Outstanding services: One's experience is not enough to build a successful online business until they are a pro at providing the services to the end-users. We at Truelymarry ensure to offer offline as well as online matrimonial services to our clients. We are the best when it comes to the services we offer.
Words from the desk of our Founder:
Truelymarry.com is serving society for a decade now. Trusted by hundreds of people now it was started with the sole purpose of helping society by finding the right partner. Our motive is to simplify the process of matchmaking by leveraging technology.
Ours is a team of enthusiasts who work endlessly towards making our website user-friendly, giving maximum satisfaction to the users, and offering superior protection on privacy terms. We are growing with every passing day and planning to use technology to its optimum level. In the future, we will bring a wedding directory planner on our platform that will ease the work of planning a wedding and provide everything in your budget."- Rajeev.
Future Aspects:
We are not just an online matrimonial company rather we are emotion and strive to offer the best to our customers in the field of matrimony. Our team is looking forward to leveraging more technology that will enhance the customer experience taking it to a whole new level.
Our Plans:
We are planning to broaden our services from just filters such as cast, religion, and age to data such as profile descriptions, profiles most viewed by others, background check data, and connecting the registered profiles with their respective social media profiles.
Currently, we are present in three cities namely Kanpur, Lucknow, and Bangalore and we are planning to expand our region opening more canters in other cities and offering our top quality services across the country. We look forward to offering an outstanding virtual experience to our customers so that they find the best match for themselves.
Next, we are planning to launch a Wedding directory. The purpose of this new venture launch is to ease the preparations for the Indian wedding. We understand the hustle a family has to go through while planning a successful wedding and this is the reason we are planning to bring the wedding directory to your fingertips. Here you will find the vendors from your nearby locations and plan your wedding within your budget. You can plan your wedding in a few simple steps.
Let's make life-partner searching fun with Truelymarry. Find your jeevansathi on our platform.